We waited for him at the bar in Šiška, Ljubljana - the champion, the team captain who led our national team victoriously all the way to the first Holy Grail for Slovenia. He stepped out of the car, greeted us with a smile and shook my hand as if I were the only person he met today. The thing that is so striking about him is his sincere modesty and the power in his eyes which convinces you that he really means every word he says, and which is convincing enough for others to follow him until the end and beyond.
He held his first snack for the day in his hands, a sandwich he had not finished yet. I told him he could take his time and finish the sandwich. No, no, I can talk while I'm eating, he said, so let's get started.
You have just left the Planet TV Channel where a moving story continued and you received a basketball jersey with the number 3 on it. The jersey was once owned by the legendary Yugoslav basketball player Dražen Petrović and the video of you receiving it went around the world.
Yes, I have just met Mrs. Biserka Petrović, the mother of my idol Dražen Petrović. I gave her my jersey. And once again, it was one of those moments which seem to last forever and which I will remember for the rest of my life. She told me she will put my jersey into Dražen's museum beside the jerseys which once belonged to Dražen, Jordan and Stephen Curry. I cannot even imagine what that means. I am really deeply moved.
This may be a rhetorical question: have you ever before experienced such a roller coaster of extreme emotions as you have in the last few days?
No, never.
I was watching you for two hours and a half at the press conference yesterday when you were tirelessly giving interviews, signing posters, jerseys and taking pictures after three nights without sleep... Everybody wanted a piece of your thoughts, of your body, of your heart. It sounds almost biblical as in the words: »body which is given for us«.
It is not easy, I must admit. I will never forget the words of the Miami Heat coach Erik Spoelstra who won two NBA rings. He once told me: »One of the most difficult things in life is to become a champion and then withstand all the pressure.« I didn't properly understand that at the time. I thought it must be difficult to withstand all the training and ups and downs; it is hard to reach the title and achieve that immortality. Now I know he was also referring to the public pressure.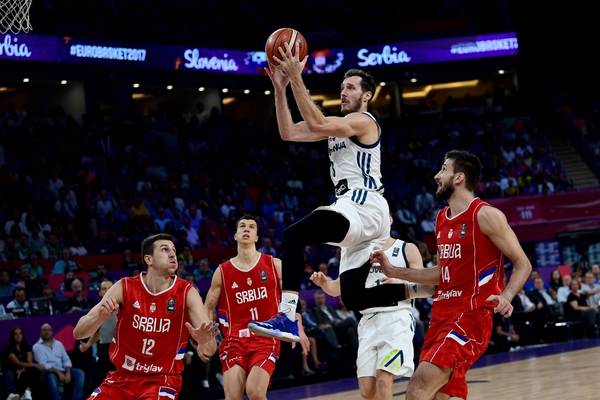 Snapshot from the final game against Serbia. Photo: Ozan Kose/AFP
And it must be especially difficult for you who seem to be trying to fulfil everyone's wishes and to make everyone's day ...
Yes, I am always trying to be the right role model for the young people. This is how I was taught at home. To give the people everything I can if it is only possible. And, if only possible, to take pictures with every fan who really wishes to do so. Because I can still remember very well what it meant to me as a young basketball player when I could speak a few words with Rašo Nesterović.
For the price of taking this body which has an unimaginable value to its extreme limits.
It is true I have been barely able to stand on my feet for the last four days. I was physically tired, of course, but the mental, psychological tiredness was even worse. Tiredness from all those interviews and conversations with the media. I was constantly in front of the camera and in the middle of this vortex of emotions, fear and euphoria, which hit me.
I don't even know how to describe this. You dream all your life of doing something, the pressure is building up on your shoulders through the years, and you look at Slovenia which is failing every time at the one but last step before the finish line ... And when you reach the goal, all the pressure of all those years suddenly disappears. You stop being yourself, you stop being that person, and you pull something out of yourself that you didn't even know you had it in you ...
At the crucial moment when the Serbian team took the lead, probably all the Slovenes in front of the TV sets and in the basketball arena shared the same thoughts: the history is about to repeat itself. As if we had this in our collective consciousness, in our DNA - »we cannot possibly make it«. And it seemed as if you reached for the power and force of a leader within you and turned the story around?
[Silence.] I don't know how it looked on television but I was in some kind of a trance at the time. We were leading by twelve points, the Serbs achieved a partial result 10:0, and suddenly we were leading only by two points. Igor called a timeout for Slovenia. All the players came to the bench and their first reaction was to bow their heads and stare at the floor ...
At that point I felt that this is the most difficult moment of the game, and I felt I had to change that mood somehow and to make them start thinking in a different way. I really got mad and I shouted: What is going on?! This is the final game! We're playing in the finals of the European Championship and we are leading by two points! We are leading in the finals and we are the ones bowing our heads!? We are the ones who should be holding our heads up high! And at that point something happened as if we had all woken up and really started playing until the end of the game.
Where did you find the energy to do this?
The energy, yes. I don't even know it myself. Somehow it comes from within you. It comes out of... dreams. The dreams you dreamt for so long, the dreams of becoming a European champion someday.
And when I sat on the bench with cramps and I couldn't step on the court, I prayed to God ... Those were the hardest three minutes of my life. Because I knew that this is the crucial moment but I couldn't be on the court, the cramps were too painful; and because I knew that as a player I couldn't help my brothers, my team. I couldn't do anything about it. The only thing left for me to do was to convince them with this energy and to make them aware that they were the best. And to spread my arms ...
Before this you were considered mostly a friendly, polite guy who never showed this determination, this quality of a leader. It seemed as if you used some invisible strings to convince the players, even the ones who are not playing in serious clubs, to play the final game as champions.
I agree with you, of course. And I agree with the conclusion that I matured as a player. I think I learned a lot in the last two years at the Miami Heat, mostly because I could learn from Dwyane Wade, Chris Bosh and the coach Erik Spoelstra. These players have a winning mentality within them. If I only think about what a team we had last year. We didn't have the big names and it was still our goal to win the NBA championship. In the end we didn't make it. But it is very important to have the wish alone constantly in your mind; before you go to bed and then immediately when you wake up. To be constantly concentrated on this wish - we will win - is something that changes you. And this is what I came to realize at that time.
It is true that before that I was mostly a quiet guy and not a very open person; I kept myself in the background - not so much on the court, but otherwise, in my private life. But this year I said to myself: I learned a lot and the national team sees me as a leader. And the leader must make a good example; I have to light this fire in them when we most need it. And this is what happened in the finals. I can't say that it was something I planned; the decision was not rational. But at that moment I felt it and I acted on an impulse.
As opposed to individual sports, the most important component of group sports is to compete with another living being on the opposite side and the unpredictability that you just cannot calculate. I suppose you must be a good psychologist as a team captain to predict the behaviour of your opponents and how their bodies will react ...
... and how the bodies of co-players will react as well. These are definitely difficult psychological questions. At first, the work is done by the team coach. Igor Kokoškov provided us with the energy and calmness so that we felt close and connected to each other but it is true that as a team captain you have to know exactly how certain co-players behave on the court. There are some players who will play better if you take the rough approach and if you yell at them but there are also players who will fail if you choose such an approach. So you have to predict which tactics to use with different players. For example, with Edo Murić, it was better to use a firm hand and I also had to yell at him at times...
What about Prepelič?
Prepelič as well if needed [smile]. Everybody knew it was not personal and that it was all for the good of the team. And I saw it several times how it benefited him when I did it, and we all saw how well he played in the finals... With Jaka Blažič, for example, you have to deal in a completely different way. If he makes a mistake, you mustn't reproach him and put pressure on him; it is better to encourage him.
We followed a simple rule when playing for the national team: if you make a mistake during the game, put it in a box and don't open it until the end of the game. Only after the game is finished, we will open the box and deal with the mistakes and analyse them. But never during the game.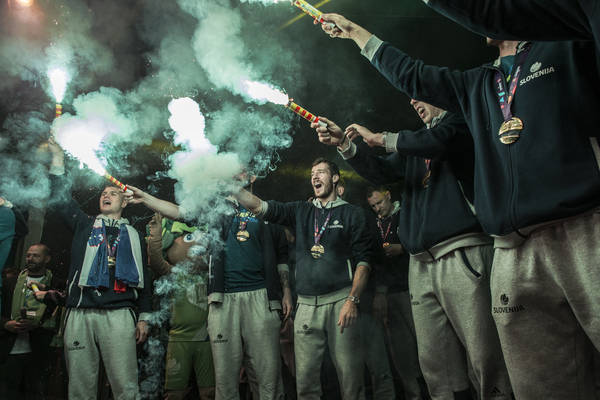 What about you, what type of a player are you? Do you need a softer approach?
Not really [smile]. After I already understood what basketball is all about ... Aljaž can tell you a lot about how things were at Ilirija ... [he pointed at the table next to us where the sports journalist Aljaž Vrabec was sitting - a basketball player that used to play together with Dragić at Ilirija basketball club] Most coaches at Ilirija yelled at us all the time, so I grew up in such an environment. It seemed normal to me. If they told you to f... off, it was as if they wished you a good day. I had no problems with that, I took it as a part of everyday training process. You cannot have the same approach to all players. As I said, it fills someone with energy and stimulates him to play better, as is the case with me, but someone else may be discouraged and will become invisible until the end of the game.
What language is spoken, then, in the locker room? And I don't mean this literary.
In most cases, there are two languages [smile]. And these two are the most important in my opinion. The first one is the language of winners that is spoken before you start the fight to warm up and encourage yourself to do everything you are capable of until the last drop of blood. And the second one is the language of humour which is most efficient during the difficult moments when we have to encourage each other and overcome the crisis with jokes and humour.
I think this is the ideal combination. Before the game started and we stepped on the court, I always had a speech with which I tried to strengthen our connections, our energy and motivation. Before the final game, for example, I said: This is for Slovenia, I want us to make history and write it with golden letters ... But I won't go into details, now... [smile]
After you start playing and you're good at it, the smile is all that matters. It is important to smile during the game and to be self-confident. And this is something we proved in the European Championship: we played with the smiles on our faces. It is crucial to enjoy even when things get difficult and to be aware that it is a game above everything else. A game in the true meaning of the word.
Was this the best quarter game in your life, asked the photographer Roman Šipić while setting the camera lens.
No, answered Dragić with a big smile. At the NBA playoffs I scored 25 points in eight minutes.
Because of you and your extraordinary co-players we got back our national self-confidence. The euphoria still persists but the Beatles obviously broke up. Who is Yoko Ono? Fiba?
[Smile]. Even before this European Championship I said this was my last European Championship. My body won't allow it any more. And I want to see my son and daughter growing up. I wanted to win a medal and this is what happened. But I think that every athlete dreams of leaving when he is on the top. This is what I wish for as well.
But I think that the Beatles didn't break up. We have so many good players, we have Luka Dončić who is a topmost player of whom I spoke many times; we have Prepelič and Čančar, we have Blažič, Vidmar and, of course, Zoki ...
Will the younger brother become a team captain?
Well, this is something for the coach to decide [smile]. We have topmost players, and there are other guys arriving on the scene. We have Macura, Radović ... don't let me get started. Although basketball clubs in Slovenia have more or less hit the bottom, we have topmost players playing in clubs around Europe, and this is something incredible.
What does it mean to be a member of the Miami Heat club in the U.S.? It is difficult to imagine here that over there the sports stars are equally famous as the biggest movie and music stars.
It is true. Everybody who plays in the NBA League is constantly under siege, it is complete madness. You cannot go out normally, you cannot eat normally, you cannot even think of walking down the street. Most of the time you need to hide from other people. If we want to enjoy a little time together without photographers, we have to call a restaurant in advance, make reservations and ask them to put us in the back room.
It is particularly hard if you are winning in Miami [smile] ... It helps that I am not that tall and I can hide in the crowds with a cap and dark glasses. But it is always a problem if only one person in the street recognizes you and wants to take pictures with you. It is impossible, then, to go on because others will follow him. But to be honest, I like to spend most of my free time at home with my family. I really enjoy most when I can be with my wife Maja and children.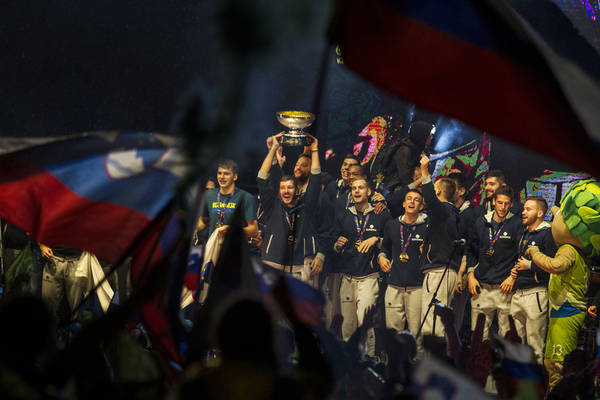 As any athlete, you know every fibre of your body but you still choose to fully commit yourself to the task you are performing and you don't hold yourself back to save energy, for example, for the last quarter of the game.
Yes, I am fully commited to everything I do. This is what I have been doing throughout my career. I do not know any other way. A nose, tooth, eye, head and who knows what else. I am not afraid of that. To be honest, I am more afraid to finish the game and to feel deep down inside that I didn't give my best. This is what I am afraid of.
Because then you have a feeling after the game that you let yourself down and all the other co-players as well. After the game you can't do anything to change what happened. To live with the regret that you didn't train well enough and you didn't do everything you could have done - I simply don't want to allow that to happen.
Even when training, I am always commited fully to what I am doing. But at the same time I am aware of the fact that basketball days will have to end eventually. I still have a few years left and while I am playing basketball, I want to be fully and passionately commited to what I am doing all the way to the end. Because I really love this sport. And after those few years I will have to look for something else ... and I still don't know exactly what it will be. I am already somewhat afraid of this, now that I am thinking about it.
At the press conference, you were asked if you have ever thought about making a movie similar to 300 or a comic book in which the king of Sparta Leonidas leads his 300 warriors into battle against Persia. You answered: »I am a perfectly ordinary Goran from Koseze, Ljubljana. I like to keep myself out of the spotlight.«
And this is true. I would be willing to make a movie only if they made the one which just happened. A movie about the national team, the coach, the fans, about Slovenia and all the emotions in the locker room and on the court as well as among the spectators in the arena - this is the kind of movie I would like to see. Not a movie about me but a movie telling the story of all of us, a movie about Igor and the guys who gave their best on the court ... And about the euphoria before the European Championship, the commentaries and the emotions of the people during the championship when we were winning all the games but many still couldn't believe we would be able to last until the very end.
The story of David and Goliath.
Absolutely, we cannot even imagine what kind of nine national teams we beat. I really hope that someday it will be recorded in a movie, so that my grandchildren will be able to relive the story which is, as you say, the story about how a small team reaches the top although no one expects them to make such a breakthrough.
Considering your contract with Miami Heat for $90 million you can be the first to invest the start-up capital.
That's true. The problem is I don't know how to do it. You need experts, producers, directors.
We have them in Slovenia.
I think that by all means the story has to stay in Slovenia. It has to be done by someone living in this environment and who is able to feel the basketball and the entire story.
What will happen when you will have to leave basketball? Where will you find the new passion comparable to this one?
I think every athlete is bothered by this question and feels the pain because of it. The transition from playing and doing something you love all your life and feel passionate about, and then it suddenly has to end. What then? You are faced with one big question mark. Will you become a sports commentator? An agent? A coach who transfers all his experience to new generations?
Or an archaeologist? Didn't you want to become an archaeologist when you were a child?
[Smile] I wanted to be many things. But it is a little too late for archaeology, I think.
Film production?
No, I don't think so. I think I would really enjoy working with children. The camp [Goran Dragić Basketball Camp] we organized on Rogla at the end of June and where I spent seven days was something we all really enjoyed.
So maybe the best option would be to become a coach but for younger kids.
After this great victory when the media at home and abroad started competing with each other who will come up with a better superlative and more original title for Goran Dragić - »the Messi of basketball« or »the winner of the Holy Grail« - what sort of mechanisms do you use to keep you sane when you hear about all those successes and how incredibly good you are?
I understand what you mean. You want to know how I am able to distance myself from all of this. The mechanisms are simple. They were implanted in my head by my parents when I was still very young. They taught me to do everything with honesty and to stay true to my values regardless of everything that may happen to me; they told me to stay the way I always was. I think that in spite of everything that is going on right now, I still haven't forgotten who I am.
Your photographer [he points at Roman Šipić] can confirm that. We played together at Ilirija club and at that time, we were just kids for him... Even now when I am somewhat successful, I prefer to go back to that time when we played three on three at Ilirija; when we grew up through games and through contacts with other players and when we didn't feel any pressure since no one bet anything on me, no one expected anything from me. At that time I really played only because I felt the passion for the game and I was completely free... That was the time I built my personality.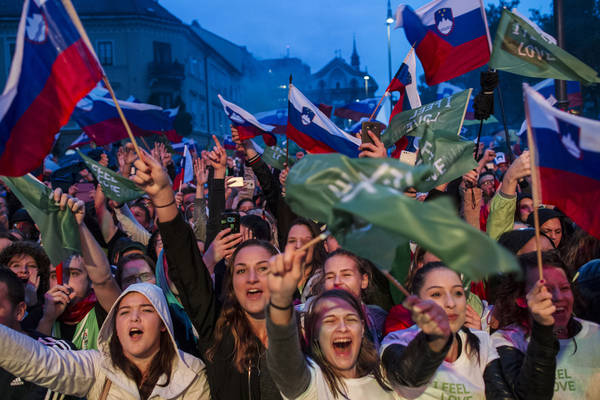 Even now, the people who played with you at that time still claim that sometimes you use similar tricks. For example, the trick you used when you scored by putting the ball between the ears of the Serbian basketball player Boban Marjanović.
Oh, yeah, that one [smile]. I always say that I learned very important things in basketball in clubs from topmost coaches. But I learned the most when playing on an outside basketball court at Ilirija. I was most relaxed back then. When I watched street basketball games and saw what players were doing, I tried to copy them and use certain tricks. No coach could say to me, then: You can't do that. I was my only coach and I tried dribbling behind my back and used fadeaways ... When I was at Olimpija Club, for example, I wasn't allowed to shoot for three points because I wasn't considered a good shooter. But at Ilirija I was scoring all the time, I was relaxed and free.
This is what Aljaž Vrabec wrote in the portrait for the Delo newspaper: it was in the Slovenian national team under the leadership of Igor Kokoškov that you started playing the way you did at Ilirija for the first time in you professional career. Simple and with total freedom, and an immense trust of the coach.
I agree completely. And this is why I stress the role of Igor Kokoškov so strongly. Igor is the type of coach who allows freedom to the players so that the player's personality can be expressed, his qualities or special features if you want. There is no pressure, you only have to play. You play with ease as if you were in a park. And this is the most important thing.
Is this the modern basketball that everyone is talking about?
As Igor said, modern basketball is the winning basketball, i.e. the one played by the winning team.
How did you manage to keep playing basketball with such an ease even in the most difficult moments; you played very elegantly and with a smile on your face ...
The way I already explained. This is the so-called second language in the locker room [smile]. The language of jokes, humour and smiles. We were together all the time, we breathed for one another. There was no ego trips. If one of us said we must go left, all twelve people went left. If one of us said we must stop, all twelve of us stopped. As if we were one body. There were no questions or doubts, no one asked why we should go left here and shouldn't it be better to go right. And it wasn't about putting pressure on us as if we were in the army, it simply happened simultaneously.
The picture of you comforting the member of the Serbian national team Vladimir Lučić after you have won went around the world. By doing this, you sent another important message to the world and the entire Balkans - and you did away with those rare intolerant newspaper titles that read: »A Serb Destroyed Serbia«.
There is no point to go into that. I am always proud to say: I am a Slovenian. I was born in Slovenia and Slovenia gave everything to me.
But at the same time I respect my father's Orthodox roots. Orthodox religion is only one of religions, which just happens to be the most widely spread in Serbia, Russia, Greece and Georgia, and I perceive it as part of my heritage. How can I even explain this?
In your opinion, how does the Orthodox God differ from the Catholic, Judean or even Muslim God?
In the end, we all come to the same point. It's about what your heart is like. This is how I see it: everybody on this planet has the right to believe in their own God if they feel that way, whether it is Jesus, Allah or Buddha ... I respect all religions and I wish that everybody would nurture this respect from very young age.
Before the finals I was somehow split into two Gogies. On the left, there was Gogi who won the gold in the European Championship and felt the joy because of this achievement; but on the right, there was Gogi who lost in the finals and was crying because his long-time dreams had slipped away. I did this to be able to prepare myself for the proper reaction when one of those two options became reality.
And when I saw that Lučić was crying after the final game, I felt sincerely bad because while watching him, I saw myself and all of us who could be just as well in his position. I approached him and told him: Hey, you did a good job today! You must be proud of this final game and be proud of the silver medal since you are still young and have a bright future in front of you, and I am sure that you will soon win that gold as well.
Where did you get this passion for the ball? It is interesting that your father played football and your mother played basketball.
Yes, my mother played basketball for Ilirija until she was 21 years old. Then she got pregnant with me and she stopped playing.
And the basketball gene was passed down to her descendant?
That's right. Although my father was an amateur football player, he also played basketball on the basketball court at Ilirija. We always loved to beat him [laughter].
You don't like to talk about your charity work but, in fact, you are very active in that field. A few years ago you initiated and successfully carried out a charity project with the Basketball Federation of Slovenia, Špas Theatre and Urban Gorjanc who was diagnosed with the Marfan syndrome. This was only one of your projects and one of those that the public found out about.
I help whenever I can. But I don't think it's morally right to stress my charity work.
When I was 15 years old, my mother worked for Birografika Bori, a company employing disabled people and managed by the Muscular Dystrophy Association of Slovenia, where at least 60 per cent of people with muscular dystrophy are employed. I established good relations with many of them at the time. I noticed that other people looked at them in a different way. I don't want to say that they valued them less than other people but it was obvious that they were hurt because others felt pity for them. They didn't want that. They didn't want to be treated that way, they wanted to be treated as equals and, for example, to share jokes with others... This is why we organize basketball camps which, for example, host the national wheelchair basketball team [The Slovenian Paraplegic Association], and the children are asking the players how they deal with their situation which changed their lives. We try to show the children that even though you may be physically impaired, you can overcome that with the power of your will. We teach them that other things are important.
When Anthony Randolph received Slovenian passport, there were some second thoughts about that, namely who is entitled to Slovenian passport and who is not. On the other side we are closed to hosts of refugees who come to us without anything. What do you think about this?
I will only say this. My father was born in Bosnia, he came to Slovenia which accepted him, he received his passport, he met my mother here and this is where he stayed. We know what happened during the last war, I think that Slovenia accepted Bosnian refugees very well at that time. It was similar when floods occurred in Bosnia and Serbia when everybody from the former Yugoslavia connected well with each other and showed solidarity. We should connect with each other again to solve this issue with refugees.
After all, they are all just people running away from the horrors in their home countries and seeking better life for their families.
I was raised to respect different religions, nations and races. I think it is not important who you believe in, what colour is your skin or where you come form; I can see only one thing: whether you are a good or bad person.
In Miami Heat, there are eleven African-American players in the locker room, and I am the only white person there. And I have to say I really felt a little uneasy when I first came there. But once you get to know them, you can see how warm-hearted they can be, and now I am like a brother to them.
But it was possible that they wouldn't have accepted you?
Of course, it was possible that they wouldn't have accepted me. Once you become friends with them, you hear their deeply moving stories and you realize what they went through, partly because of the colour of their skin, and you respect them all the more.
What is it like now in Miami after the Hurricane Irma?
In our part of the country there were relatively few problems, there were no casualties. We were afraid of the floods most of all. There are broken trees in the streets, some houses were ruined and our house was partly damaged, the fence was broken and the pier is gone... It can all be fixed, the main thing is there are no casualties.
Are you looking forward to flying off to your second home in a few hours?
My home is right here. This is where my home is [smile].
Delo is Slovenia's premier newspaper that stands as the most influential and credible. Delo has been engaged in co-creating Slovenian public space for over 50 years. Its many content sections monitor, highlight, explain and comment on a wide variety of social, political and economic developments. Delo is the first choice of opinion leaders.